Plus500 is an online broker famous for their huge selection of Contracts for Difference (CFDs), and the Plus500 site is available in over 30 different languages. Instead of using a licensed platform, such as the famous MT4 or MT5, Plus500 have their own bespoke trading platform named Webtrader. It is tailor-made to fit Plus500 perfectly and contains a lot of great features for traders, including tools for Technical Analysis. The platform is easy to understand and navigate, and you can trade directly in your web browser (a dowloadable Webtrader is also available).
Can I use Plus500 on my mobile?
Yes you can!
Download the Plus500 Webtrader mobile app for iOS from the Apple App Store.
Download the Plus500 Webtrader mobile app for Android from Google Play.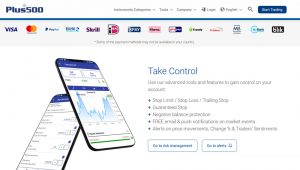 What are Contracts for Difference?
A contract for differences (CFD) is a financial contract that pays the differences in the settlement price between the open and closing trades. CFDs are always cash settled. When you are using CFDs, you don´t own the underlying asset (a share, a commodity, a stock option, etc) and there is no delivery of physical goods.
CFDs are typically used for very short-term speculation.
CFDs make it easy to speculate in both upgoing and downgoing markets.
Many of the trading companies that offer CFD trading also offer ample leverage. Plus500 is no exception; where local laws allow they offer up to 1:300 in leverage.
Underlying assets for CFDs at Plus500
Plus500 offers CFDs with a wide range of underlying assets and indices.
Examples:
Share prices
Options
Foreign currency
Cryptocurrencies, including Bitcoin, Litecoin and Ripple
Exchange Traded Funds (ETFs)
Commodity prices
The Webtrader trading platform
Plus500 use their own bespoke trading platform. It is named Webtrader and it is very easy to navigate and understand. You can download the Webtrader platform if you want to, but trading directly in a web browser window also works great.
Can I trade on my mobile?
Yes, Webtrader works well on smartphones and surf pads.
There is one Plus500 Webtrader mobile app for iOS and another one for Android. The iOS app is found in the Apple App Store, the Android app is at Google Play.
Only one account type for real-money trades
Many online brokers offer several different account types, but Plus500 only have one account type for real-money trades: the Plus500 Standard Account. All real-money traders at Plus500 have a Standard Account. When you register with Plus500, you don´t have to worry about picking the best account type for your trading style, because the only one available is the Standard Account.
Trading hours at Plus500
The platform is always open, but the exact trading hours vary depending on the products you are trading.
Some more information
Plus500 offers leveraged trades. The largest leverage is 1:30 within the European Union and 1:300 in most other parts of the world.
There is a Plus500 Demo Account available for free (no deposit required). With a Demo Account, you can explore the trading platform using play-money. It is a great way to learn how the platform works and try out various strategies.
Plus500 customer support
Live chat support: Yes
Phone support: No
Email support: Yes
The Plus500 customer support is staffed 24/7.
Deposits & Withdrawals
Smallest deposit: 100 USD
Smallest withdrawal: Depends on the method
Deposit fee: No
Withdrawal fee: No
Exempels of accepted transaction methods: PayPal, Skrill, Bank transfer, VISA, MasterCard
Expect Plus500 to need at least three bank days to process your withdrawal request.
About Plus500
Plus500 was founded during the second half of the 00s.
The Plus500 parent company is the British-based Plus500 Ltd. This company is listed on the London Stock Exchange (Main Market).
Plus500 Ltd owns seveal subsidiares around the world, such as Plus500CY Ltd (based in Cyprus) and Plus500AU Pty Ltd (based in Australia).